ski freeze 2023 - new year's day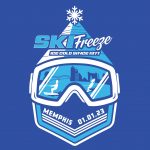 Join us January 1, 2023 for the 44th Annual Ski Freeze to benefit the Dream Factory of Memphis and hosted by the Collierville Ski Club.  This unique event is open to the public.  Skiers, wakeboarders, and barefooters will brave the icy cold water of the Mississippi River for a short spin around Wolf River Harbor to raise funds to help grant a deserving child a dream.
WHEN:  January 1, 2023
WHERE:  Mud Island Boat Ramp, 123 S. Front Street, Memphis, TN 38138
TIME:  Registration begins at 10:30AM
COST:  $30 for participants
Meddlesome brewing co. meandering 0.5k benefits dream factory of memphis on nov 5th
Moose Lodge #2206 Donates $2,213 to Dream Factory
On April 25, 2022, James Caraway (Moose Lodge 2206 President & Dream Factory Volunteer) presented Brian Juengling (Dream Factory Volunteer) with a check for $2,213 from the net proceeds of the Bull Moose BBQ and Poker Run event. In addition, the Women of The Moose #2090 donated $100.
Our thanks to the Moose Lodge Members for their generosity and commitment to helping us make Dreams Come True!
SOMERVILLE MOOSE LODGE HOSTS FUND RAISER
On April 15-16, 2022, the Somerville Moose Lodge #2206 will be hosting their Annual Bull Moose BBQ Contest and Poker Run.   Net Proceeds from both events will benefit the Dream Factory of Memphis.  During the event, a raffle will be held for donated items with 100% of the proceeds helping the Dream Factory.  We hope you make plans to join us!
Ski Freeze 2022 Funds will grant over 4 Dreams
We are excited to announce that Ski Freeze 2022 was a huge success despite canceling the event due to severe weather with net revenue over $23,000.
We want to thank the Collierville Ski Club, WMC-TV5, Trezevant Enterprises and all of our event sponsors for your efforts, which made this a great event AGAIN!  Thomas, whose dream the event will sponsor, leaves for Orlando mid-April.  Here is part of an email I received from his mother, which truly sums up the impact you make on the special kids we are privileged to serve.
"First, let me say just how excited I am. I have not stopped thinking about this trip since we hung up. It all just hit me that we are taking him to Disney. Cam, my daughter, has been showing him YouTube videos of the rides.  I am not sure who is going to love watching Thomas more on these rides. I just can't say enough how much I appreciate you and the generosity of The Dream Factory."
SKI FREEZE 2022 NEW YEAR'S DAY
Hosted by the Collierville Ski Club

Proceeds To Grant Thomas' Dream!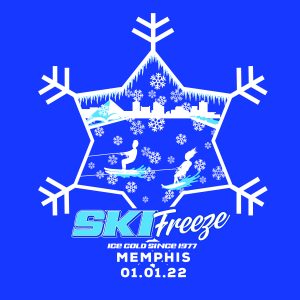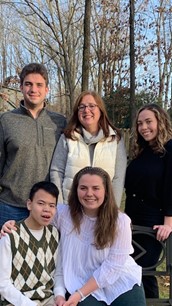 Thomas L is a 15-year-old from Germantown, TN diagnosed with Cerebral Palsy and is G-Tube dependent. His favorite Disney character is Mickey Mouse, and his dream is to travel to Orlando in 2022 to meet Mickey in person.
Here is a heartfelt note from his mom Cindy, so you can get to know him better.
"I adopted him from China when he was 16 months old. His paperwork indicated that he was found on the street wrapped in a blanket weighing a couple of pounds. He weighed 9 pounds when he was placed in my arms and was very sick. I took him to hospitals all over country to figure out why he wouldn't eat. His cerebral palsy affects his gait a little and swallowing but no one was able to figure out why he wouldn't eat at all. The Drs called it failure to thrive. At age 2, a G-tube was placed. He has thrived ever since. He likes to "play" basketball with his three older siblings and tries to sing to Les Mis. He is limited verbally but can hum the entirety of some songs!"
When we interviewed Thomas about his dream, it was evident that Walt Disney World was his only DREAM. We hope you'll join us New Year's Day to help us make Thomas' Dream Come True!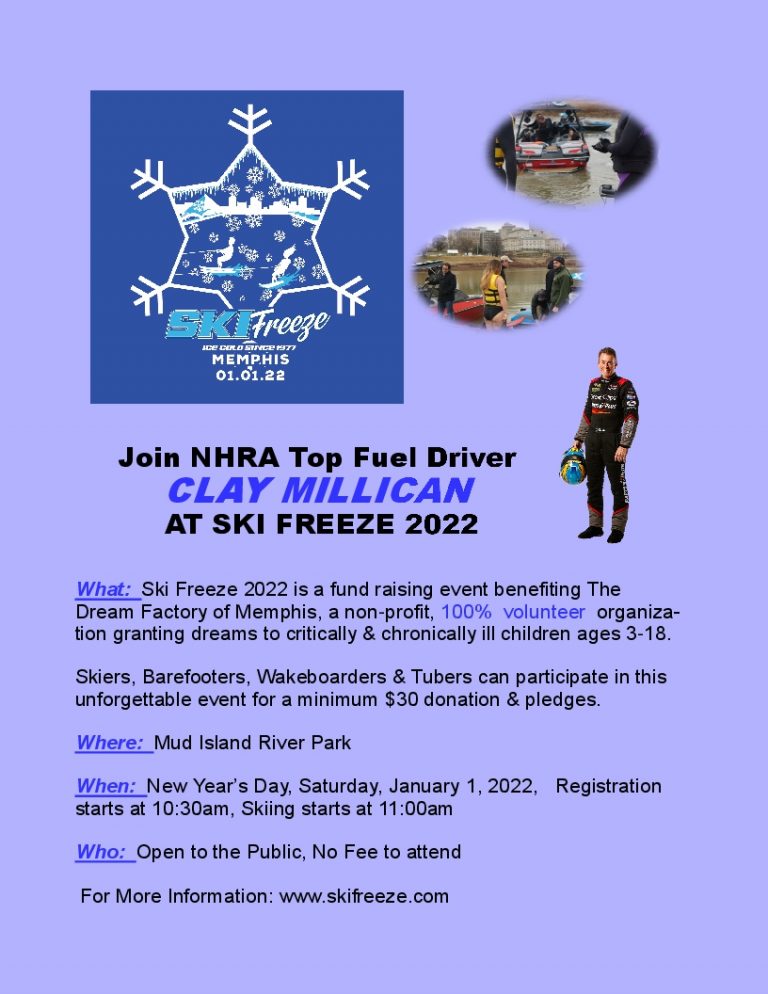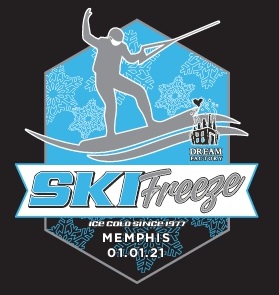 SKI FREEZE 2021 RAISES OVER $20,000
The Dream Factory of Memphis would like to thank everyone who helped make this year's event a tremendous success.  Despite COVID-19 headwinds, we were able to host the event New Year's Day.  We are excited to report Ski Freeze 2021 raised $20,178, which will grant numerous DREAMS.  We originally estimated $12,000 due to the pandemic.
Many thanks to our Event and T-shirt Sponsors for their generosity, allowing us to accomplish this enormous feat. Thanks to our 19 skiers making it the "Ski Freeze".  Finally, thanks the Shelby County Health Department for approving our COVID plan, allowing the Freeze to go on.  Notable thanks to:
WMC-TV5, Altsol Group, Parts Plus Motorsports, Crews Realty and The Collierville Ski Club.
The Dream Factory of Memphis is a 100% volunteer, 501c3 non-profit organization dedicated to granting dreams to critically and chronically ill children age 3-18 in the Mid-South.
We look forward to next year's event and hope we can return to our normal format. Until then, we wish you a safe, healthy and Happy New Year!
SKI FREEZE 2021 SPONSOR LIST
PLATINUM SPONOSORS
WMC-TV5
Parts Plus MotorSports
Collierville Ski Club
Altsol Group
GOLD SPONSORS
Alexander, Thompson Arnold PLLC
Automotive Merchandising Corporation
Bruce Coleman Sound
Bumpus Harley Davidson
Crews Realty
Germantown Cleaners
JC Cycles
Memphis Ice Machine Co
Memphis River Parks Partnership
Mid America Parts Distribution Corp
Mid South Instrument Co.
Mike Fay State Farm
MotoNation, LLC
Nixon Family
One Diversified
Polo Wines & Liquors
Premium Parking Corporation
Reeves Lawn Care
Triangle Acoustical Inc
Vining Sparks
Dream Factory "Tap into Dreams" Fundraiser
Our thanks to The Casual Pint for hosting our 1st "Tap into Dreams" Fundraiser on Saturday, March 14th. 
The event netted $271.87 in donations.  Although the Coronavirus dampened our attendance, it didn't dampen the spirits of those who attended.  We look forward to another event with The Casual Pint and to make it much more successful.